During 2021 we continued with our appointment-only drive up clinics as the Covid-19 Pandemic continued. We continued with our pet wellness clinics located at 'The Table' in Portland and even though the challenges continued, we increased the number of pets we helped compared to 2020. Here are the highlights of 2021:
The big news from 2021 was being a recipient of a $10,000 Community Care grant from Banfield Foundation. This grant helped us to help more pets in our target zip codes (zip codes that do not have vet clinics). Due to this grant, we were able to expand into a new location and offer a free vaccine clinic in the West End of Louisville. This grant also allowed us to give out more flea medicines (up to 6 months of treatment) to each pet that attended a clinic.
We continued our partnership with LMAS (Louisville Metro Animal Services) made possible by a Best Friends grant. This program helps pet owners in our target zip codes with Spay/Neuter services to help prevent unwanted births and decrease homeless pets.
Pets4Life Louisville also received a $5000 grant from the AVMA (The American Veterinary Medical Association) COVID Relief/Domestic Abuse Grant.  Pets4Life used the grant funds to provide dental surgeries and extractions to pets with severe dental disease that attend our clinics.
Pet Treatment Services Summary:
Number of Pets Treated: 256 (215 dogs & 41 cats)
Rabies Vaccines: 198
Other Vaccines: 220 (FVRCP and DAPP)
Microchips: 116
Dewormer: 171
Flea Treatments (multi-month): 214
Nail Trims: 114
Spay/Neuter Vouchers Distributed: 117
Dental Surgeries Performed: 13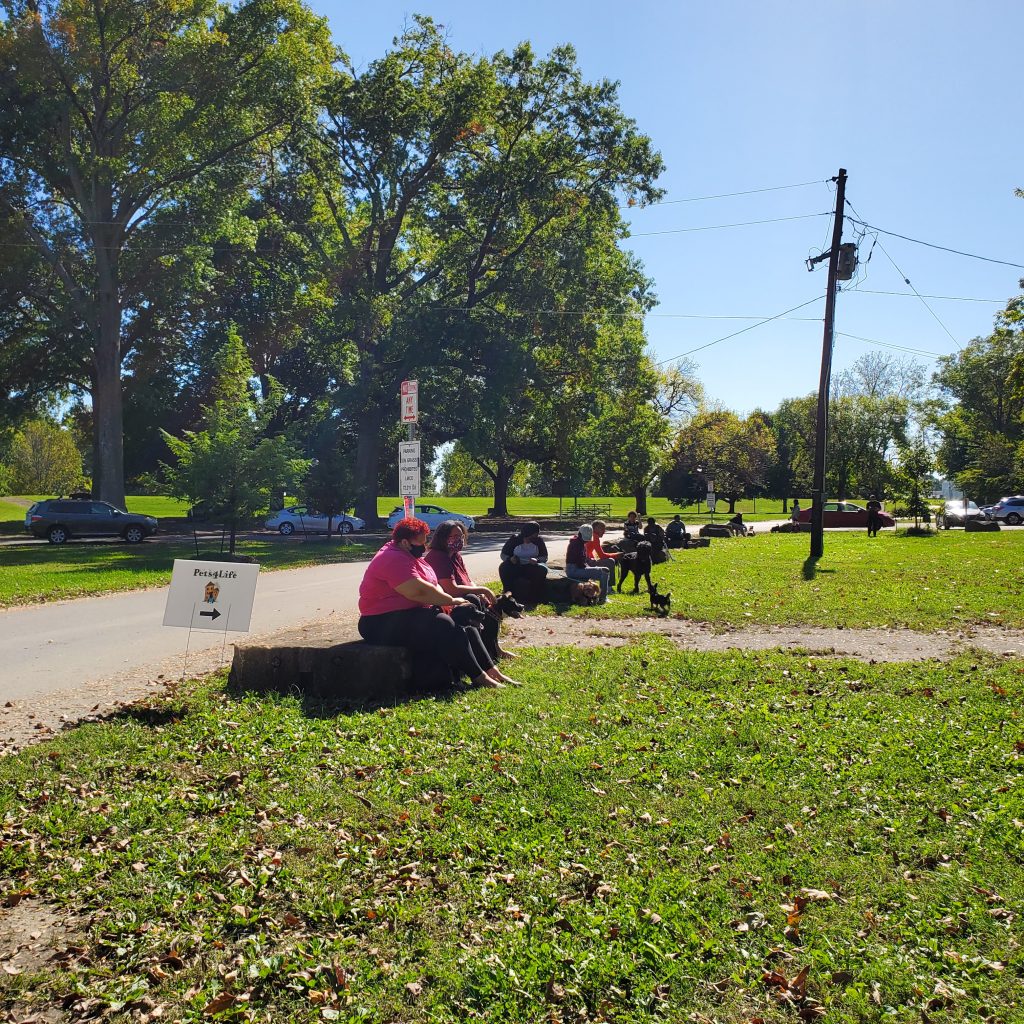 Demographic Analysis:
 Pets4Life has identified the following target zip codes for services: 40201, 40202, 40203, 40208, 40209, 40210, 40211, 40212, 40213, 40214, 40215, 40216, 40217, 40218, 40219 and 40258. These zip codes are within the 'resource desert' with little to no vet resources available in the community. Our analysis shows the break-down of pets treated in 2021 based on zip codes:
| | | |
| --- | --- | --- |
| Within Target Zip Codes | Other Jefferson Co Zip Codes | Outside Jefferson Co |
| 76% | 12% | 12% |
2021 zip code break-down
In addition, our goal is to help people living in underserved communities who cannot afford veterinary care for their pets. A large percentage of our vet services were provide to households living below Federal poverty guidelines:
81% of services went to households with incomes less than $25,000 per year
16% of services went to households with incomes between $25,000 – $50,000 per year