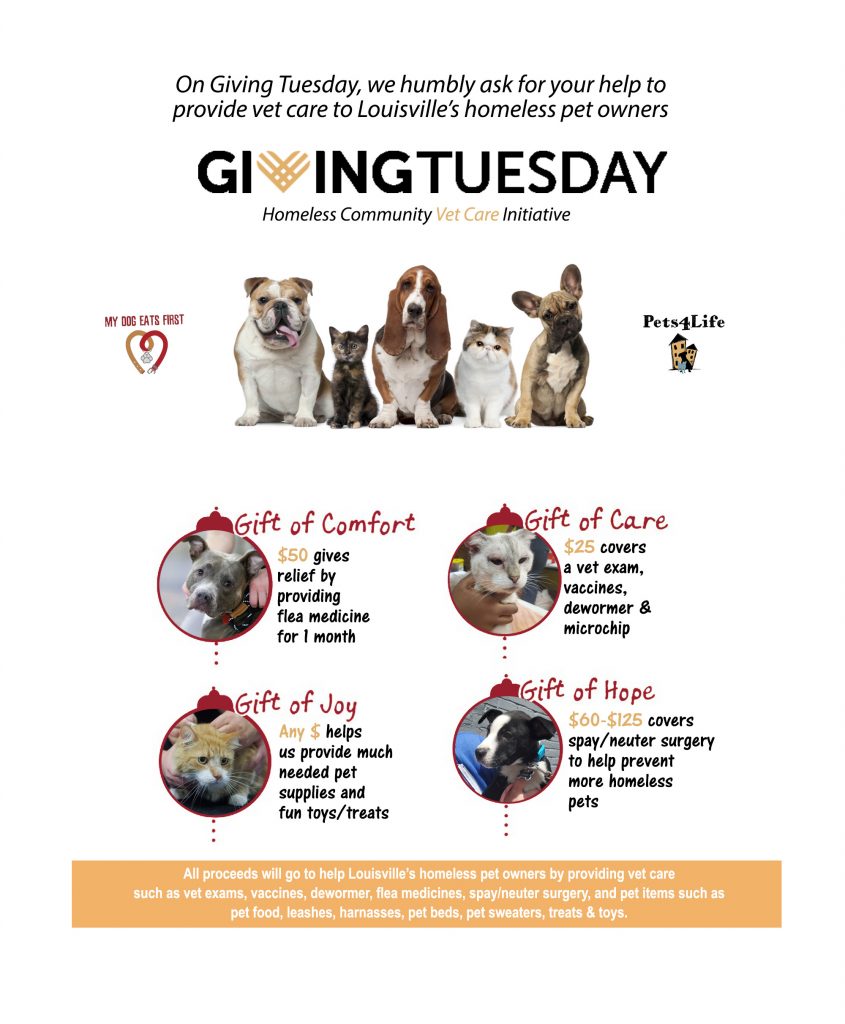 Partnering with MDEF to help the pets of the homeless community
Did you know that there are over 100,000 dogs and cats living in our community that don't have access to veterinary care? And many of these pets belong to people in our homeless communities. This year, Pets4Life is partnering with My Dog Eats First (MDEF) to raise money to help these pets with basic supplies and vet care.
We will be partnering with MDEF and working with other nonprofits to go to Louisville's homeless communities to help with pet food, warm pet clothing, flea medicines, vaccines and more! Although these pets are owned and loved, they are often suffering terribly due to hunger, cold and easily treatable conditions medical conditions such as fleas and worms.
Because we are a 100% ALL VOLUNTEER organization, 100% of the funds raised will go directly to helping these homeless pets. Funds will be used for pet food, pet clothing, vaccines, dewormer, microchips, S/N vouchers, flea medicines and more.
Make a Donation: Pets4Life & MDEF Giving Tuesday Goal: $3000
On Giving Tuesday, November 29th, we would like to ask if you can make a donation (small or large) to help us with vet care in Louisville's homeless community. Our goal is to raise $2000 so that we can help the most vulnerable dogs and cats in our community who are suffering and are in pain. Scan/Photograph this image to make a donation:
Would you be able to make a donation to help reduce animal suffering and help people keep their Pets4Life? Please give to Pets4Life Louisville today or on November 30, Giving Tuesday.
Other ways to help Pets4Life & MDEF with Giving Tuesday
Set-up a Facebook Fundraiser:
Set your Fundraising Goal
Set your end date
Feel free to personalize the title/description of your fundraiser
Press 'Create' and get started on your challenge
Follow this link to create a Facebook Fundraiser for Pets4Life Louisville
Buy From Amazon Wishlist:
Amazon: Who doesn't love a little on-line shopping? Are you planning to do some Black Friday shopping? How about some Cyber Monday shopping? If you're looking for a tangible way to make a difference in the lives needy pets, then look no further! Check out the Pets4Life Louisville's Amazon Wish List.
Be sure to mail it to the Pets4Life Louisville Mailing address:
Pets4Life Louisville
291 N. Hubbards Ln.
Suite 172, Box 105
Louisville, KY 40207
Use Amazon Smile:
Shopping online at Amazon on Black Friday or Cyber Monday? Did you know that every time you shop at Amazon, you can help needy pets? Through the Amazon Smile program, all your purchases can help Pets4Life at NO ADDITIONAL COST to you!
To participate, simply navigate to smile.amazon.com and look in the upper left corner. Search and select 'Pets4Life Louisville'. Each time you make a purchase, navigate to 'smile.amazon.com' before checkout (all your account information will remain the same). For each purchase, Amazon will make a small donation to Pets4Life Louisville.
Share on Social Media:
Follow and participate on our main Facebook Page, Pets4Life Louisville . To help us during Giving Tuesday, please consider sharing the content and posts on your newsfeed, or sharing in Facebook Messenger with your friends who love animals. These acts will help us expand our reach to more people who need our services, as well as people who may want to support our mission to help needy pets in Metro Louisville.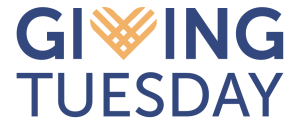 Pets4Life Louisville is a 501(C)3 nonprofit. We have received the GuideStar Bronze Seal of Transparency. And because we are an all-volunteer organization, 100% of your donation goes toward helping animals!